There are things you need to consider when you decide to apply an open concept kitchen in your home. The styles, sizes, elements, and decoration are the things you need to have them well-planned.
Open concept for a kitchen is something you could decide to have when you wanted to make sure that you can see the whole floor area of your house. Any open concept is perfect for a small house. Putting up walls would just narrow down the room.
Applying open concept for the interior would make the house more spacious than it actually is. In an open concept kitchen, you'll also have a dining room and living room. All of them will be connected together.
The open kitchen design is not only spacious but also supportive for you who are a bit claustrophobic. Well, to spice up your inspiration, here are 8 inspiring open concept kitchen ideas you'll love.
1. Brisbane Open Concept Kitchen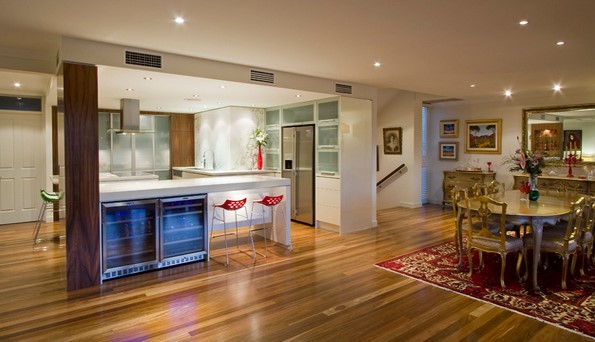 This kitchen is dominated by the color of brown. Even though it uses the neutral color like brown, it's got stunning lines and textures. Check out the flooring, instead of having the plain wood, this Brisbane kitchen designer offers a nice brown shade on the floor.
It has a white kitchen design with a unique and colorful barstool. But most of all, the frosted glass cabinets are the highlight of this open kitchen. In the dining room, you can see that the color stays in a good harmony.
2. Millenium Tower Loft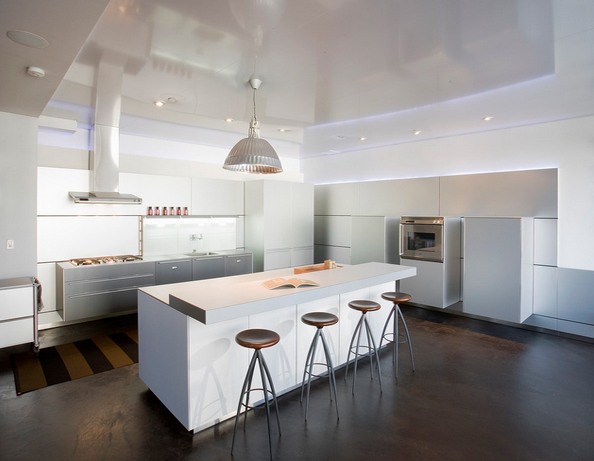 The combination of wood and metal in this millennium tower loft kitchen seems to be perfect. But we are not talking about the whole kitchen, it's only about the barstool. The modern style of this furniture which combines metal and wood is pretty popular these days.
In this minimal and modern kitchen, these stools make a statement particularly. It's also suitable for that all-white theme of the open kitchen. Even though your kitchen small, with the open concept it would be looking pretty wide.
3. Orlando Kitchen Family Room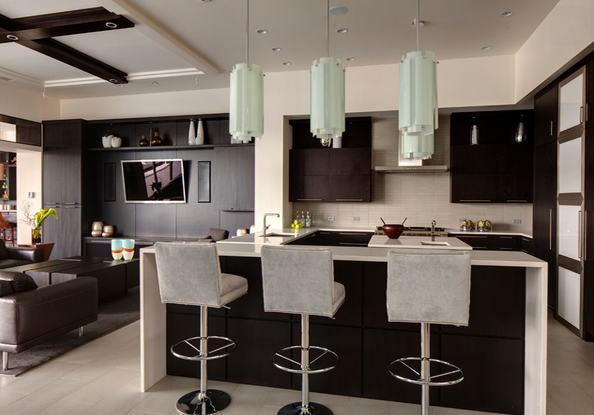 Another open concept kitchen idea, it might catch your attention. It's the only kitchen that doesn't seem too bright, so far. Comparing to the previous ideas, this kitchen seems to be more impressive. It's got decorative lighting, the harmonious color, and a complete element.
The one element that really catches my attention is the pendant lights. It's got a unique design that seems very suitable for this kitchen design. The dark background makes the light pendants even more awesome than before.
4. Open Concept with Custom Wine Storage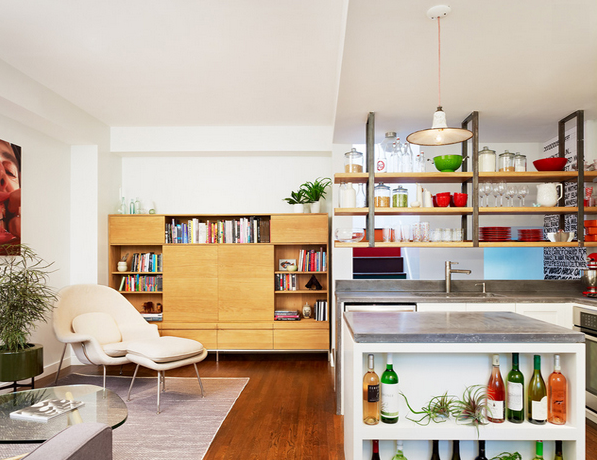 Some open shelves could be a nice addition to your open concept kitchen. As you can see, this kitchen has a hanging shelf to stores some utensils. It creates a nice separator between the kitchen and other room.
The highlight of this kitchen is its island. It has a nice custom kitchen island that has a built-in storage for wine. For you wine lovers, finding a perfect spot to showcase your wine collections or stocks would be something you could be proud of.
5. Open Kitchen with Curtains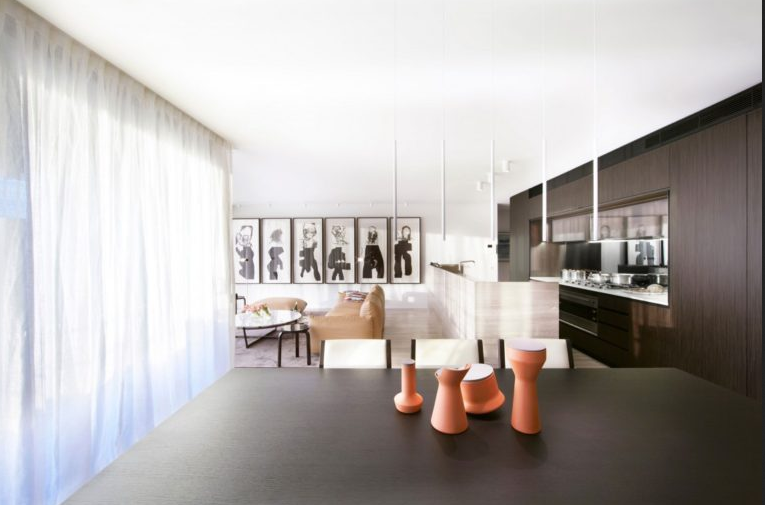 If you find that it's important to give every room a little bit of privacy in an open concept kitchen, curtains would be a great option. Sometimes, some privacies could be useful in a room. Curtains would be a viable solution for designing this kitchen.
This kitchen design is designed by Smart Design Studio. The curtains separate different functions of the room when you need it. If you want to get it all open, you can just open the curtain right away. So, you can use the curtain you have in your kitchen whenever you need it.
6. Architectural Open Kitchen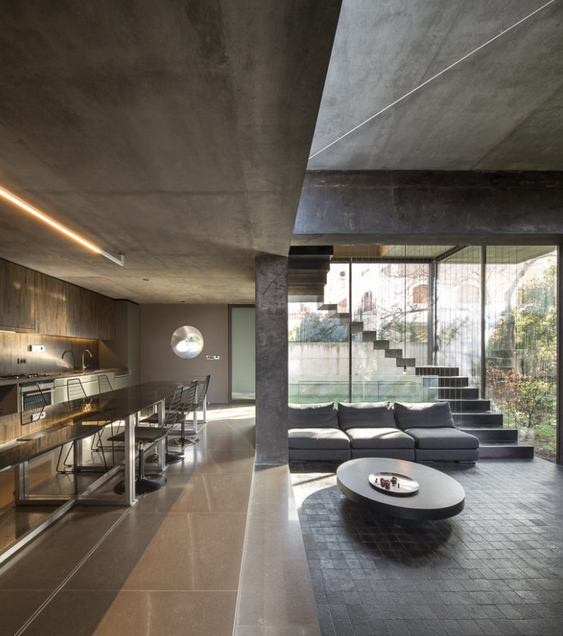 Every space of the room in an open concept doesn't have to be in the same color. Sometimes, home designer decides to have the whole room looks like a single large room. But, if you want to have every single room in different elements, you can have this open kitchen design.
As you can see, that is an open floor plan, it has no wall that separates them away. But, it's got a clear visual distinction between the rooms. It is because each space uses different materials, colors, and finishes. This is a clever solution to separate space in an open floor plan.
7. Bright and Cheerful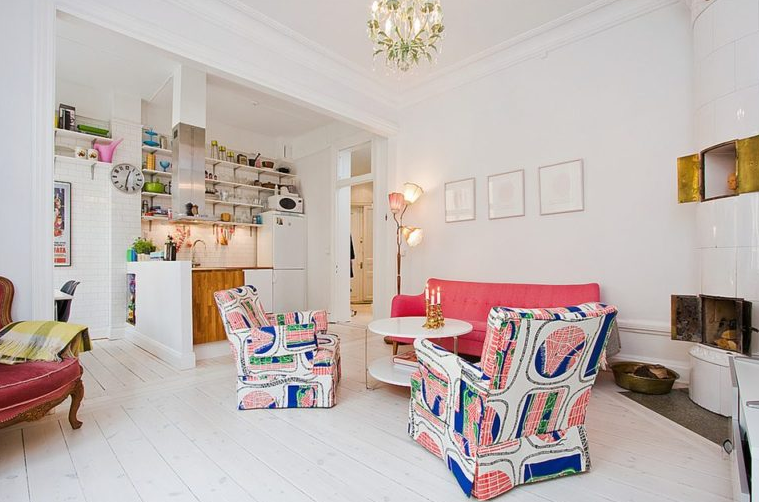 This an open kitchen design we found in Apartment of Stockholm. That cheerful pattern on the couches of the living room catches the attention of every visitor. It makes you really want to enjoy being in the living room. The pink long sofa balance the color mix of this open floor room.
There's a small kitchen in the background that looks perfect to decorate the room with those shelves. The room looks really small, but it would feel larger and spacious because of the open floor concept. So, the small kitchen would be no more when having the open concept.
8. Luxurious Open Kitchen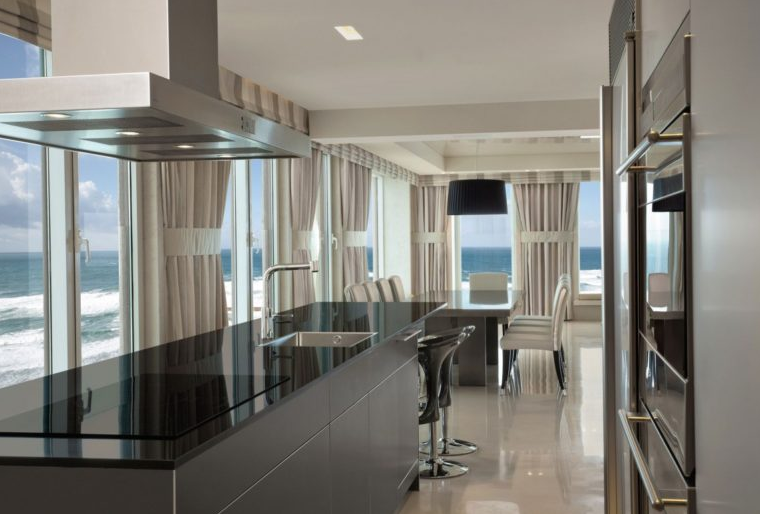 This luxury kitchen is found in a beach apartment which is designed by Daniel Hasson. The designers really take the open concept of room jump up to the next level. AS you can see, the large windows all over the walls create an atmosphere that opens the inside to the outdoor's views.
Thanks to the large windows and beautiful view, this kitchen doesn't need bright colors. This kitchen has a clever storage solutions. Just by looking at this luxurious kitchen you would feel the appealing and functional design of this kitchen.
Pros and Cons of Open Concept Kitchen
People might get confused about what to choose between the normal or closed concept kitchen or the open one. Let's focus on the open concept kitchen. Here are some reasons to consider and not to consider having open concept kitchen.
Pros:
It's a popular choice nowadays.
A perfect option for small kitchen.
Keep the other people in touch while doing kitchen activities.
There's no wall to reduce the natural light.
Cons:
Messes would be easily seen.
Some guests would be uncomfortable to look at the busy kitchen.
It's hard to have a formal dinner.
Conclusion
To conclude, those 8 ideas for open concept kitchen might come in handy when you decide to get your small kitchen wider and more comfortable than ever. Don't get confused anymore, if you have a small house, this is the only solution or you can just move to a bigger house.