There are many designers don't recommend dark wood floor to be applied in a living room, especially a small one. If you have a small living room, it's not recommended to have a dark color dominating all over the room like on the floor.
Wood is actually one of the most popular flooring materials for years. For a modern style in today's home design, using wood flooring is still a material that is well sought after. It's got natural beauty and a gorgeous look.
Wood is fine with everything but when it's darker in colors, it could be a problem. You should avoid having dark colors for flooring if the room is not large enough to take it. If the room is large enough, you can balance the dark flooring with the bright walls, ceilings, and furniture.
Why Choosing Dark Wood Floor Over The Light Wood Floor?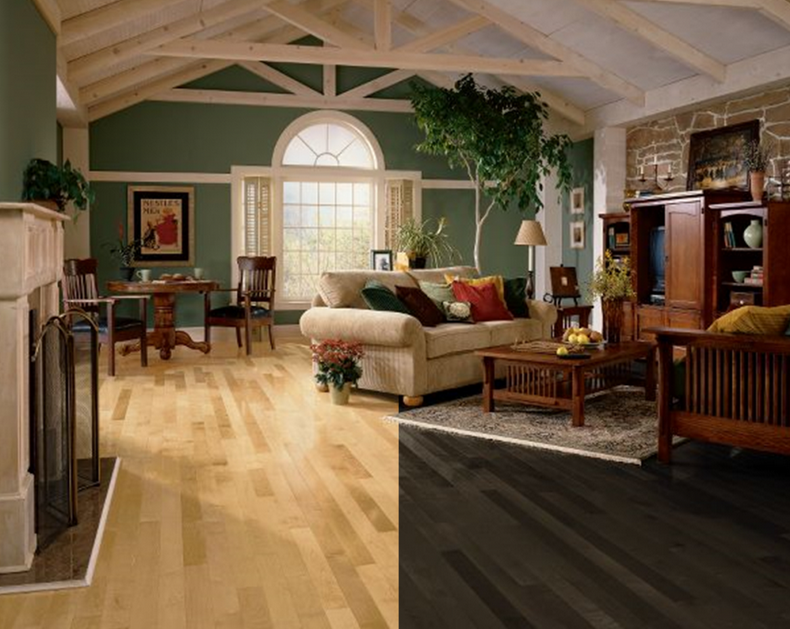 Whether it's light or dark, any shade you choose for your wood flooring would make a significant impact on the room. In this page, we are focusing on having a dark wood floor in a living room. There are some good reasons you need to know to have a dark wood floor for your living room's flooring.
A darker hardwood floor would offer you a modern and elegant look. Besides, the modern look on the light wood floor is not better than the dark wood. In fact, a darker wood floor is more popular these days.
With darker color on the wood, you would see the grain of the wood. Dark color shows the wood grain more clearly than light wood color. That's what makes dark wood looks really beautiful and dramatic.
A dark floor would provide a great contrast to another decor. Darker shades appear to be able to be complemented with a wide variety of color schemes. The dark shades would make a bright and light colors "pop" more and it's gonna be fantastic.
The dark wood floor would be less susceptible to fade than the light one. It means that this wood floor probably has to be refinished less frequently than the light one.
Dark Wood Floor in a Living Room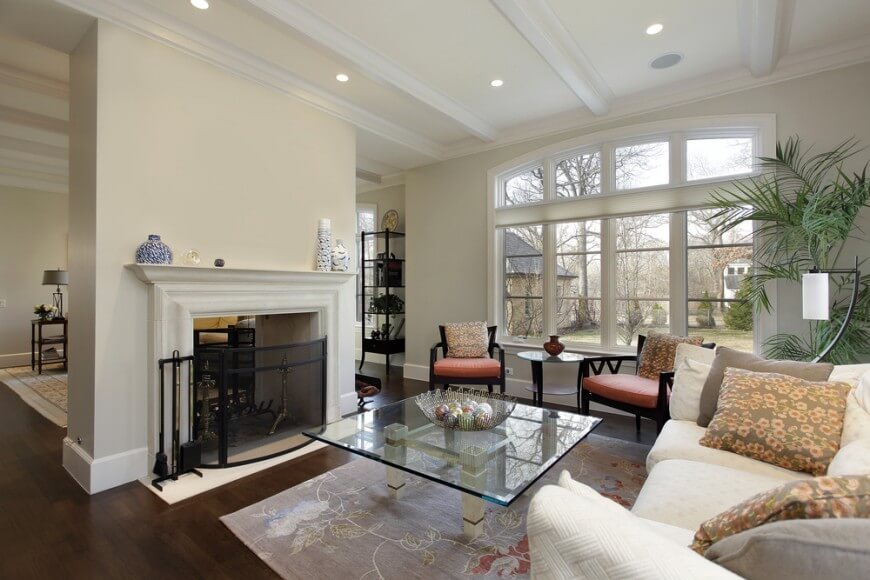 There are a bunch of styles of living rooms that go well with the dark wood floor. Actually, almost any style can go well with dark flooring but we have to focus on the most recommended ones. So, you won't be confused about which one you'll choose to apply.
1. Ornate Southwestern Style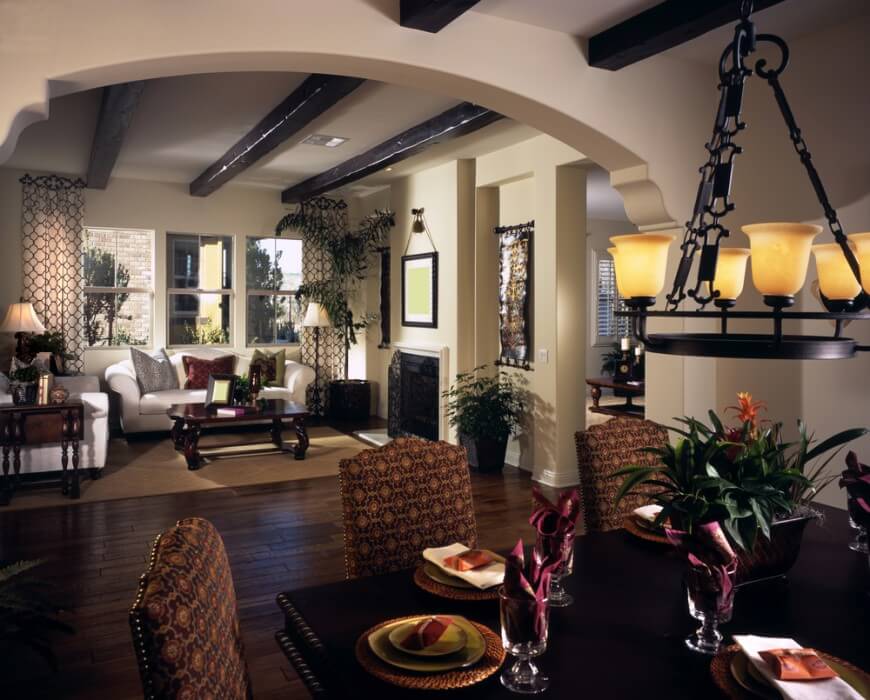 Check out this astonishing design of the living room. The dark wood flooring creates a dramatic atmosphere in the living room. The sense of elegance is shined bright in this dark room. The domination of dark color doesn't make this living room gloomy or creepy. Instead, the ornamental accessories and patterns all over room make it more festive.
Obviously, this southwestern style living room is adopting an open concept. It's aesthetically connected with dining room. The dark color of the floor and the exposing beam of the light flow beautifully into the room.
2. Bamboo Flooring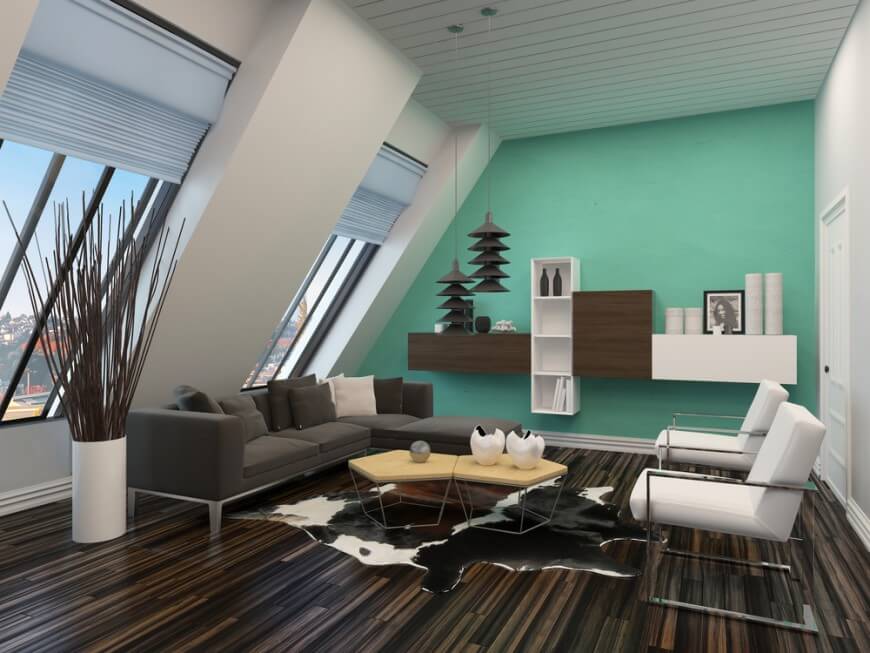 A dark wood floor can be achieved by using bamboo as the main materials. It doesn't have to be using real hardwoods because technically, bamboo is a grass. Well, as you can see for yourself, dark wood doesn't mean dark room.
The color of the walls and ceilings decide where the room wants to go. The soft green and white wall combine to make a balance the floor. To accentuate the flooring, the designer put a unique cowhide rug under the coffee table. The contemporary concept takes over the whole living room.
3. Traditional and Rustic Style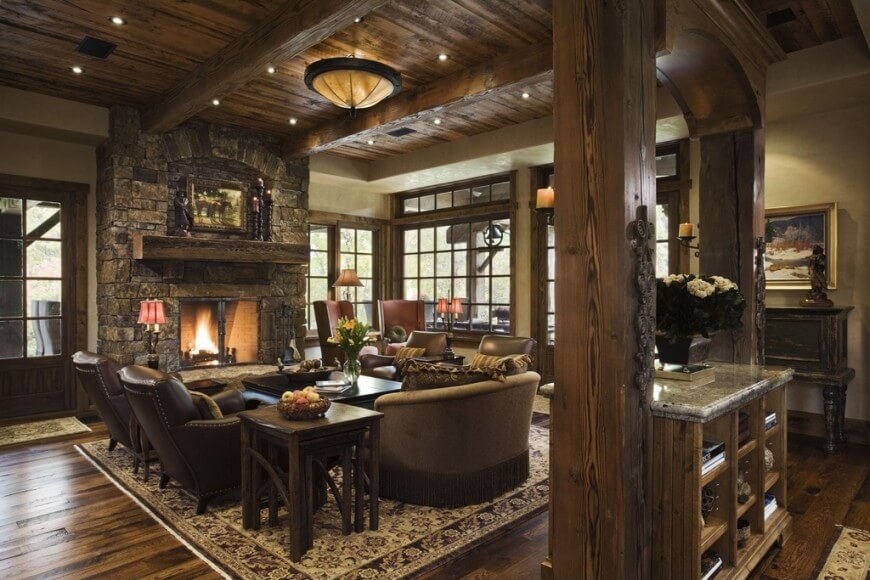 For you who enjoy a traditional house, dark flooring will complete the style. The wood floor surely needs to be matched with the ceiling. As you can see, the solid hardwood floor match with the exposed dark wooden ceiling and columns.
The combination of rustic and traditional style make a great impact on this living room. As you can see, the bay windows really set a stunning background for this traditional living room. In the middle of it, you can have a fireplace with a rustic stone mantel. The beautiful wood grain all over the room adds a natural feel to the room.
4. Dark Wood with Lighter Finishes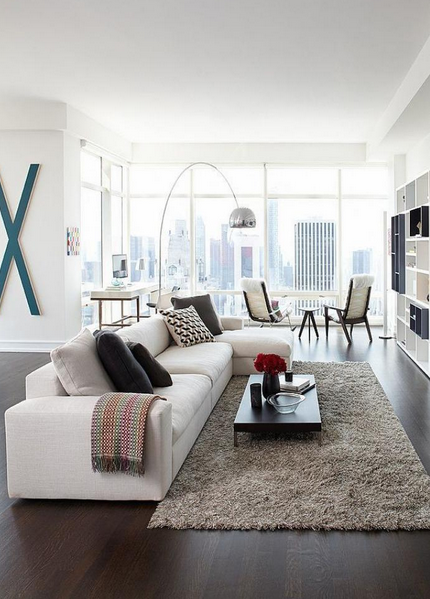 There are two choices you should make when applying a dark wood floor, complement it or contrast it. In this living room design, the designer chooses to contrast it. Contrasting will be the theme all over the room.
Take a look at the basic combination of dark and bright. All of the floors are in dark shades. Actually, the flooring is the only dark shade in this living room. This living room proves that a room with dark wood floor can be bright too.
5. Modern Living Room with Dark Wood Floor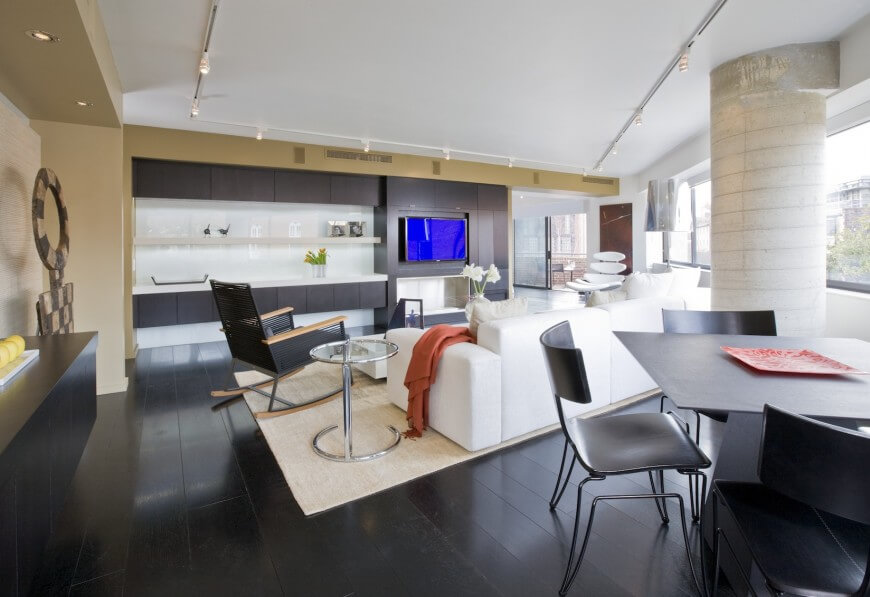 A black hardwood flooring can be a nice choice of color for your living room. Check out this open, spacious living room. The black flooring keeps this room for not looking too bright. There's a huge amount of light comes into the room because of that wide window.
So, if this living room has a light flooring, it would be too bright. It means a dark wood floor could be a good way to balance the brightness of the room.
Pros and Cons of Dark Wood Floor
There are some reasons why you should choose dark wood to be applied in your living room. Also, there are some considerations you need to know before choosing this kind of flooring.
Pros:
Shine the sense of elegance in the living room.
Balance the amount of light that comes into the room.
Add drama to the room's atmosphere.
Not easy to get dirty.
Cons:
Scratches are more visible.
Could be too dark for a living room.
Uncomfortable for some people.
Not recommended for vintage style.
Not recommended for small house.
Conclusion

Dealing with a dark wood floor could be a difficult challenge for the designer. You may have to reconsider choosing dark floorings. But, if you're willing to take the risk, your living room would become more elegant in a modern way.